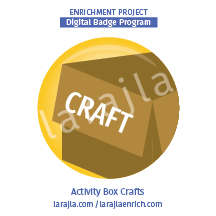 Making activity boxes for craft projects can be endless. Not only can you do traditional crafts, you can move into digital crafting as well. Start with "Activity Box Basics" and then complete the badge program below to create your own activity box for crafts.
Steps
1. Keep notes.
As you're working through brainstorming and creating your activity box, keep good notes. Even items you don't use in one activity box may be used in another. While you work through the process, ask yourself these questions:
Does it fit with my theme / reason for creating?
Are all the requirements I wanted filled?
Does everything work the way I think it should?
What can I substitute that might work better?
What is missing?
2. Your expertise.
When creating craft activity box, you should have some knowledge in the type of craft before creating an activity for it. For example, I would be reluctant to make a box for crafts involving polymer clay as my knowledge is very limited. However, rubber stamping and papercrafting I could teach weekly for a year and not run out of ideas. Brainstorm a list of the crafts you might want to feature in an activity box.
3. Crafts by type.
Starting with your list of crafts you are good at, which might work well in a box? Some, like stained glass, will not work well in a box. You could include instructions, but materials and tools would be difficult to incorporate. You might also want to break down your craft into smaller parts. For example, I would break paper crafts into everything from artist trading cards to zendoodle. Then, each craft type would be easier to create.
4. Crafts by materials.
You can determine your activity box by the craft materials you have available. Yarn is plentiful. Colored glue sticks might not be as easily found. You may need to adapt your projects by what is on hand.
5. Crafts by tools.
Another way to determine what to include in your activity box is by tools. If you create a box to punch circles to make a caterpillar, you could add other animals in that use the circle punch. This would minimize the number of tools you need to have available.
6. Crafts by age.
Some crafts may be difficult by various age groups. Manual dexterity and understanding complicated instructions / steps might be beyond younger users. For example, I try to limit using scissors with kids in first grade and lower as well as older people (think nursing home age). Manual dexterity isn't high. So, I try to adapt these by either pre-cutting items or doing work with punches so they can still enjoy the process, not the part that will frustrate them.
7. Crafts by theme.
A theme, color or other item for all the projects with a box can make it seem like they belong together. Look at the list below and brainstorm crafts you might include in the listed themes.
Harry Potter
Pirate
Princess
Super Hero
8. Crafts by programs.
You may be following a specific badge program that you want to complete with a box. For example, if you are doing a badge for making dolls, you would want to cover all aspects of the badge program. If not, you need to note what you are covering and what might still need to be done.
9. Open-ended crafts.
You may just want to make a list of random items (recycled, nature, etc.) and provide open-ended craft ideas so that the kids can be more creative and not limited to materials in the box. Basically, it's anything they create from the materials with their imaginations. Open-ended crafts can be art projects including mixed media, art journals, jewelry and more.
NOTE: With open-ended crafting, you can choose to let your kids experiment without you. It's a great way to encourage creativity.
10. Vagabond box.
As you complete craft projects and SWAPs, collect the left over items in a vagabond box. You may see this box as a collection area for scraps, but it can be an activity box by itself. See the supplement below for more information on this type of collection / recycling box.
11. Printables.
Printables such as coloring and zendoodle sheets are an easy activity box item. The simplest way to do this is to print and place a sheet in a page protector. A second sheet with information about making copies and basic steps can be put on the back. These can be collected in a binder. What other craft items might you be able to print and share?
12. Start the list.
A list of possible tools and materials is included with this badge program. Keep them handy while working on your activity box. You may need more or different items than you realized.
13. Contents.
Create your forms, instructions and other items you need to include. Gather all the items you plan to put in the box. Make a separate pile of everything you're expecting your user to provide. Missing anything? Create, find or purchase it! Make any adjustments as you gather and prepare for your final box.
14. Test every project.
Before including a project in the box, do it yourself with the items in the box. Be aware if you run into the office for scissors, the kitchen for water or anything else not included in your original notes. Don't rely on what you remember, but actually check your paperwork. Alternatively, you can ask someone else to test the box for you. That way, everything is new for them and they're more likely to catch mistakes and missing items.
NOTE: After making your final project, I recommend taking photos of it to include in your box or including the actual project in the box as a sample for reference.
15. Improve.
You can make your box better by adjusting per your testing phase. Including your feedback form will allow others to help you with more ideas to improve your box. Keep track of these letters and periodically review your box and improve it.
Supplements
SUPP_AB Crafts_2in_12up_larajla
Avery 2" round label printable, 12 up
SUPP_AB Crafts_Checklist_larajla
SUPP_AB Crafts_Color Fun Donation Box
Creating a donation box for kids to enjoy
SUPP_AB Crafts_Color Fun Materials List
Possible materials list for Color Fun activity boxes
SUPP_AB Crafts_Vagabond Materials List
Possible materials list for Vagabond activity box
SUPP_AB Crafts_Zendoodle Materials List
Possible materials list for Zendoodle activity boxes
SUPP_AB Digital_Color Fun_ALL_larajla
List of all digital assets for the Enrichment Project Color Fun badge set
SUPP_AB Digital_Feedback_larajla
Digital form to include in your digital activity box so you can get feedback from others to improve it
SUPP_AB Digital_Tracking_larajla
Tracking resources you find online to refer to later
SUPP_AB Digital_Zendoodle_ALL_larajla
List of all digital assets for the Enrichment Project Zendoodle badge set
SUPP_AB_Checkout Sheet_larajla
Check in / out items along with notes for exceptions
SUPP_AB_Updates Needed_larajla
Sheet to record what needs to be updated / fixed in a specific activity box
SUPP_ABC_Craft Fun_Bangle Dreamcatcher_larajla
Craft Fun Sheet: Bangle Dreamcatcher
SUPP_ABC_Craft Fun_Betsy McCall PD_larajla
Craft Fun Sheet: Betsy McCall Paper Doll
SUPP_ABC_Craft Fun_Bubble Wands_larajla
Craft Fun Sheet: Bubble Wands
SUPP_ABC_Craft Fun_Crayon Scratch Art_larajla
Craft Fun Sheet: Crayon Scratch Art
SUPP_ABC_Craft Fun_Envelope Bookmark_larajla
Craft Fun Sheet: Envelope Bookmark
SUPP_ABC_Craft Fun_Finger Puppets_larajla
Craft Fun Sheet: Finger Puppets
SUPP_ABC_Craft Fun_Flower Fairy_larajla
Craft Fun Sheet: Flower Fairy
SUPP_ABC_Craft Fun_Gods Eye_larajla
Craft Fun Sheet: God's Eye
SUPP_ABC_Craft Fun_Icicle Ornament_larajla
Craft Fun Sheet: Icicle Ornament
SUPP_ABC_Craft Fun_Painted Rocks_larajla
Craft Fun Sheet: Painted Rocks
SUPP_ABC_Craft Fun_Paper Bag Puppets_larajla
Craft Fun Sheet: Paper Bag Puppets
SUPP_ABC_Craft Fun_Paper Clip Ring_larajla
Craft Fun Sheet: Paper Clip Ring
SUPP_ABC_Craft Fun_Paper Cup_larajla
Craft Fun Sheet: Paper Cup
SUPP_ABC_Craft Fun_Paper Helicopter_larajla
Craft Fun Sheet: Paper Helicopter
SUPP_ABC_Craft Fun_Paper Whistle_larajla
Craft Fun Sheet: Paper Whistle
SUPP_ABC_Craft Fun_Pom-Poms_larajla
Craft Fun Sheet: Pom-Poms
SUPP_ABC_Craft Fun_Popsicle Stick Frames_larajla
Craft Fun Sheet: Popsicle Stick Frames
SUPP_ABC_Craft Fun_Punch Flowers_larajla
Craft Fun Sheet: Punch Flowers
SUPP_ABC_Craft Fun_Soctopus_larajla
Craft Fun Sheet: Soctopus
SUPP_ABC_Craft Fun_Spinning Blimp_larajla
Craft Fun Sheet: Spinning Blimp
SUPP_ABC_Craft Fun_Spirella_larajla
Craft Fun Sheet: Spirella / Spirelli
SUPP_ABC_Craft Fun_Trefoil Fridgie_larajla
Craft Fun Sheet: Trefoil Fridgie
SUPP_ABC_Craft Fun_Vagabond Box_larajla
Craft Fun Sheet: Vagabond Box
SUPP_ABC_Craft Fun_Wire Photo Holders_larajla
Craft Fun Sheet: Wire Photo Holders
SUPP_ABC_Craft Fun_Wire-Wrapped Pendant_larajla
Craft Fun Sheet: Wire-Wrapped Pendant
SUPP_ABC_Craft Fun_Woven Paper Bracelet_larajla
Craft Fun Sheet: Woven Paper Bracelet
SUPP_ABC_Craft Fun_Yarn Doll_larajla
Craft Fun Sheet: Yarn Doll
Sites to Explore
Get the infographic here > larajla blog post
Get the PDFs of the badge program / supplements here > Full badge PDFs