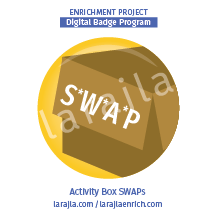 Creating an activity box for SWAPs can make the process of creating these small crafted items even easier! Don't forget to start with "Activity Box Basics" so you have a general idea about creating activity boxes before tailoring them for your SWAP crafts.
Steps
1. Take notes.
The notes you take are extremely important. They will help you identify errors, create instructions and more. You can also use these notes for additional activity boxes.
2. What you know.
Start with what you know. You probably already have SWAPs you've received from others. You can find examples online. There are groups that make kits so you can craft your own from provided supplies. Start with your knowledge and add some research to brainstorm ideas for your SWAPs.
3. Specific SWAPs.
Often, SWAPs are made for a specific event. If so, you'll want to include that information in your brainstorming session. For example, if you want to create SWAPs for your hometown, you'll want to communicate some fact about it in your SWAP. Alternatively, you might want to highlight the event itself or a specific part of it.
4. Generic SWAPs.
You might want to create a generic SWAPs box and provide project sheets for a variety of different ones as a way to introduce someone to SWAPs. You can also create an activity box that has materials to create custom SWAPs where only the tools and certain materials are necessary. In either of these cases, the SWAP is not determined by the event itself.
5. Open-ended.
You can express more creativity when you have a variety of materials and no definite way of creating a SWAP. Often, open-ended activity boxes are one way to experiment and create a unique SWAP that others may want to duplicate. If you choose to do this, be sure to keep track of the materials you use and how you use them so you don't have to tear apart your original SWAP later to create instructions. Also, provide a sheet for others to note what they did to create the SWAP.
6. Vagabond box.
As you complete craft projects and SWAPs, collect the left over items in a vagabond box. See the supplement below for more information on this type of collection / recycling box. Your box can be part of your open-ended activity box or it can stand on its own.
7. To pin or not.
Most SWAPs are made with pins, but it's not required. Friendship bracelets, zipper pulls and other wearable items may also be exchanged. Be sure to look beyond pinnable SWAPs as you work on your activity box.
NOTE: If you wish to get very cheap safety pins for SWAPs, I recommend searching through them before putting them into your activity box. I have found broken pins and sharp points that might have caused injury if someone grabbed a small handful from the container without looking
8. Materials and tools.
Your general materials will depend on two things — the type of SWAP and who is responsible for purchasing the materials. A list of possible tools and materials is included with this badge program. Keep them handy while working on your activity box. You may need more or different items than you realized.
9. Contents.
Create the items you need to include — instructions, printables, forms, etc. Gather all the items you plan to put in the box. Make a separate pile of everything you're expecting your user to provide. Make any adjustments as you gather and prepare for your final box.
10. Test every project.
Before including a project in the box, do it yourself with the items in the box. Be aware if you need additional materials or tools not included in your original notes, you will need to adjust your information. Don't rely on what you remember, but actually check your paperwork. Alternatively, you can ask someone else to test the box for you. That way, everything is new for them and they're more likely to catch mistakes and missing items.
NOTE: After making your final project, I recommend taking photos of it to include in your box or including the actual project in the box as a sample for reference. You can also use these for a digital activity box.
11. Tags.
Tags are another printable you might think of including. When SWAPs are exchanged, basic information such as first name, group / troop identity and city / state are often included on a tag. Providing a blank tag makes more sense if it's designed to match the SWAP. You can also just add a reminder about the tag and have your user buy pre-cut tags for this purpose.
Supplements
SUPP_AB Digital_Feedback_larajla
Digital form to include in your digital activity box so you can get feedback from others to improve it
SUPP_AB Digital_Tracking_larajla
Tracking resources you find online to refer to later
SUPP_AB_Checkout Sheet_larajla
Check in / out items along with notes for exceptions
SUPP_AB_Updates Needed_larajla
Sheet to record what needs to be updated / fixed in a specific activity box
SUPP_AB SWAPs_2in_12up_larajla
Avery 2" round label printable, 12 up
SUPP_AB SWAPs_Checklist_larajla
SUPP_AB Crafts_Vagabond Materials List_larajla
Possible materials list for Vagabond activity box
SUPP_ABC_Craft Fun_Vagabond Box_larajla
Craft Fun Sheet: Vagabond Box
SUPP_AB SWAPs_Creation Sheet_larajla
Creation sheet for creating your own SWAPs or encouraging others to do so
SUPP_AB SWAPs_Materials List_larajla
Possible materials for your SWAPs activity boxes
SUPP_AB SWAPs_Tools List_larajla
Possible tools for your SWAPs activity boxes
SUPP_AB SWAPs_SWAP Fun_Alien_larajla
SWAP: Alien Puzzle Pieces
SUPP_AB SWAPs_SWAP Fun_Bedroll_larajla
SUPP_AB SWAPs_SWAP Fun_Blanket_larajla
SUPP_AB SWAPs_SWAP Fun_Blow Dryer_larajla
SWAP: Blow Dryer in a Bag
SUPP_AB SWAPs_SWAP Fun_Breast Cancer_larajla
SWAP: Breast Cancer Pony Bead
SUPP_AB SWAPs_SWAP Fun_Camp Fire_larajla
SUPP_AB SWAPs_SWAP Fun_Camp in a Bag_larajla
SUPP_AB SWAPs_SWAP Fun_Camp in a Bag II_larajla
SUPP_AB SWAPs_SWAP Fun_Camp JK_larajla
SWAP: Camp Juniper Knoll Camp Sheet
SUPP_AB SWAPs_SWAP Fun_Fabric Sit Upon_larajla
SUPP_AB SWAPs_SWAP Fun_Foam Sit Upon_larajla
SUPP_AB SWAPs_SWAP Fun_Friendship Knot_larajla
SUPP_AB SWAPs_SWAP Fun_JK Postcard_larajla
SWAP: Camp Juniper Knoll Postcards
SUPP_AB SWAPs_SWAP Fun_Make Your Own_larajla
SUPP_AB SWAPs_SWAP Fun_Marshmallow_larajla
SWAP: Marshmallows on a Stick
SUPP_AB SWAPs_SWAP Fun_Necklace_larajla
SWAP: Necklace to hold SWAPs
SUPP_AB SWAPs_SWAP Fun_Spider_larajla
SWAP: Spider with Pipecleaners
SUPP_AB SWAPs_SWAP Fun_Star Light_larajla
SUPP_AB SWAPs_SWAP Fun_Star Poem_larajla
SUPP_AB SWAPs_SWAP Fun_Star_larajla
SUPP_AB SWAPs_SWAP Fun_String Keyrings_larajla
SWAP: String Keyring (non-pin)
SUPP_AB SWAPs_SWAP Fun_Tablecloth Sit Upon_larajla
SWAP: Tablecloth Sit Upon
SUPP_AB SWAPs_SWAP Fun_Tape Sit Upon_larajla
SUPP_AB SWAPs_SWAP Fun_Tic Tac Toe in a Bag_larajla
SWAP: Tic Tac Toe in a Bag
SUPP_AB SWAPs_SWAP Fun_UV_larajla
SUPP_AB SWAPs_SWAP Fun_Wash Up_larajla
SUPP_AB SWAPs_SWAP Fun_Word_larajla
SWAP: Words — Can change words, recommend under 5 letters
Sites to Explore
N/A
Get the infographic here > larajla blog post
Get the PDFs of the badge program / supplements here > Full badge PDFs