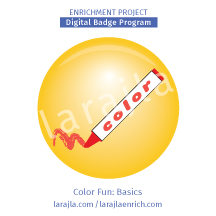 Adult coloring is relaxing, meditative and healthy. While it's designed for adults, you can do this with teenagers while giving them time to talk and take a break from their stressful lives.
Steps
1. Sheet search.
You can find free sheets available with your favorite search engine, images sites, and more. Be careful, some of them are not the best quality. I look for:
Consistent line thickness
No bleeds (it will chop off part of your design)
Elements that work together
High resolution, no jaggies
NOTE: A few coloring sheets are included with this badge program to start your coloring adventure. As part of my development of this badge set, I started designing not only my own coloring sheets but books as well. If you're interested, you can find them on Amazon under my author page at www.amazon.com/author/larajla.
2. Designs.
You can find a wide variety of designs. You may want to start with a simpler design as it will be easier to color. Designs you can find include:
Animals and birds
Art styles (art deco, art nouveau, abstract, etc.)
Cultural
Floral
Geometric
Kaleidoscopes
Mandalas
Paisleys
Scenes
Zendoodle / Zentangle®
3. Print.
Skip the standard copy paper. Some coloring tools may bleed. This means the color will go through the paper fibers and move beyond the area you're coloring or go through the paper to the other side. Choose a quality paper. I like smooth 28# paper. If you want to frame the final piece, you may want to get archival paper. For more durability, look at card stock.
4. Cover it up!
You can also cover your final designs with clear contact paper or laminate if you want to use them as fridgies (refrigerator magnets), keychains or bookmarks. Another alternative is to use resin to seal the final piece for jewelry and table tops. Explore different ways to protect your final color project.
5. Test first.
Before you print your sheets, pull out a blank one. Using the coloring method of your choice, put some color on it. Make sure the color doesn't bleed through the paper to the next page. See how it will look if you layer colors to make them more vibrant. Experiment with different techniques. Be sure to note next to your color area what you used and the technique so you can recreate it on the final sheet.
6. Research.
There are many techniques and recommendations that you may want to review before spending any money. While the paper is relatively cost effective, your coloring material can be quite expensive. To start, Crayola products work well and during the school supply sales in the fall, you can get these materials fairly cheap. There are many better brands out there (and a few worse ones too) so choose your brands and supplies carefully.
NOTE: We had a mouse in our house. Before the cat got it, it found the RoseArt® colored pencils and chewed on some. It left the others (Crayola®, Prismacolor®) alone. You may want to steer away from this brand.
Coloring Materials
7. Crayons.
They're for kids. When you're starting out, though, crayons are a very economical way to experiment with this craft. In addition, the twistable ones mean you don't have to sharpen your crayons. Personally, I like Crayola. Try a sheet with crayons to see if you like the look. Be sure to experiment with a few techniques.
8. Colored pencils.
The quality in colored pencils is just as varied as crayons. Prismacolor pencils are great, but can be expensive. Start with a lower quality brand and test them out. Don't forget to have a quality sharpener and a place to store your pencils so they don't break.
NOTE: Do not press hard with the pencils. To get a darker color, add another layer (or several). Before you put it on the actual sheet, test layering the color you're looking at so that you know how many layers you want to use. Paper and pencil type can also contribute to how your colors look.
9. Watercolors.
They may be pencils. However, the softer colors and challenge of working with water make it a unique method for applying color to your sheet. Experiment with pencils and the watercolor effect.
10. Markers.
My daughter loves Copic® markers. For coloring practice, I'd use a cheaper brand. Check out different markers and pick one brand to try. Stay away from alcohol-based inks as they tend to bleed.
NOTE: If you want to play with the Sharpie brand, be aware that you'll want both the "ultra fine" and "fine" tips to get into different areas. They also come in themed colors. Be warned, they bleed . . . badly. So put something under your sheet that you don't care about staining.
11. Gel pens.
Gel pens give good coverage and the colors are vibrant. Be sure to get a high quality set. You can find gel pens with glitter, metallic, pastel, neon and even white ones. The ink is thicker than the markers and takes a bit more to dry.
12. Pastels.
Another challenge is using pastels. This medium might be oil or chalk. For more vibrant colors, get the artist quality pastels. Starting out, the student quality will work well. Pastels do come in pencil form. However, you can use a sponge-tip applicator, cotton swap or even paintbrush to apply pastels.
A Few More Steps . . .
13. How to color.
You might want to work an entire rainbow of colors onto your sheet or just choose colors within a specific family like blues. You might want to put down solid colors or go into blending and shading. How you do it is completely dependent on your abilities and taste. There is no right or wrong way to color. Experiment until you're happy with the results.
To make it easier on yourself in the future, you may wish to create reference documents for techniques and materials. For example, you may want to add another colored image to a wall group setting you created. Having reference information will help you identify the colors, paper, mediums and techniques used so you can match the set. For more on this, check out the badge program "Color Fun: Techniques."
14. Final product.
So, you have your sheet colored. Now what? You can frame it, give it away as a gift, save it for reference later or anything else you want to do with it. And, yes, you can even throw it in the trash if you wish.
15. Next step.
Check out "Color Fun: More" for even more ways to include coloring into your artistic and crafting endeavors. The entire coloring badge set includes:
Color Fun Basics
Color Fun Beyond the Sheets
Color Fun Events
Color Fun More
Color Fun Techniques
Color Sheets: Digital
Color Sheets: Drawn
Additional badge programs may be released in this set as I experiment and learn more myself.
Supplements
List to come
Sites to Explore
Get the infographic here > larajla blog post
Get the PDFs of the badge program / supplements here > Full badge PDFs