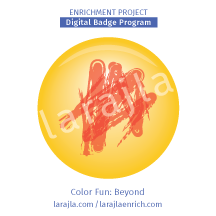 Why not do a bit more with coloring? Let's go deeper into the details.
Steps
1. Practice.
Before moving onto more interesting possibilities, master the coloring models and techniques you'd like to use. You'll want all that practice to enjoy this badge program more fully.
2. Keep originals.
Whether you find free sheets you like or purchase digital originals, you want to keep the originals you purchase accessible. A link to an online site isn't good enough. The sheets may be taken down, links no longer work or even the site ceases to exist. Prepare an archive for sheets you'd like to color again in the future.
3. Resizing.
You might want to change the size of your printed image. You can do resizing in any image editing program. Determine the size you think you need and print. If it's not right, tweak and try again. Be sure to save your new files so you can access them again later, if necessary.
4. Your style.
As we work through the rest of this badge program, be aware of the coloring styles you tend to use. You'll find designs that you gravitate toward. For example, you might like a more geometric style or art nouveau. You'll be happier with your final result if you're using the designs you like.
5. Your theme.
What do you like to find in your sheets? Are you into otters? Like symbols? While style is the look and feel of the design, theme is what is included in it. If you like things that are not as popular, you may find a single one in a book of coloring sheets or a freebie from an artist that only created that one. Being aware will help you identify those you wish to archive.
6. End in mind.
Before printing and creating your masterpiece, you need to start with the end in mind. Is this color project just for fun or do you have a location where you want to display it? How will it be displayed? Are there other elements it needs to harmonize with or are you doing a one-shot? Are you trying to fit with a style or theme that's already present? Brainstorm the possibilities before starting your color project.
7. Increase your collection.
If you like to collect something, that might be something to look for in your coloring sheets. Look through the things in your house that you collect or have a group of that you are unconsciously collecting. Look for specific sheets will help incorporate the things you like into a larger part of your life.
8. Free sheets.
If you want quick access to a lot of free sheets, check out Pinterest. A lot of people make boards with free coloring sheets. Some of the links might not work, but that's the nature of the Internet. Start your own Pinterest board with the color sheets you like and save those you really want to color in your archive.
9. My originals.
You can create your own sheets as well. From clip art to public domain images, you can explore any interest you may have. If you're interested, check out the two badges in this set on creating coloring sheets:
Color Sheets: Digital
Color Sheets: Drawn
In addition, you can purchase sheets from artists you like on Etsy and other digital supply sites.
10. Purchased books.
Not much of a stretch, but using coloring books instead of sheets allows you to have multiple sheets that may be similar in design and / or theme. If you choose to purchase a book, read the reviews before you do so. Paper quality and design can vary greatly. Look through the books offered online, at your local book or craft store or even your supermarket. Is this something you'd be willing to buy?
11. Apps.
You can find coloring programs and apps. Not only can you "color" digitally, you can create your own designs to color. Search online for a piece of digital software that interests you and try it out!
Supplements
SUPP_CF More_2in_12up_larajla
Avery 2" Round Label Printable, 12 up
SUPP_CF More_Checklist_larajla
Sites to Explore
Get the infographic here > larajla blog post
Get the PDFs of the badge program / supplements here > Full badge PDFs