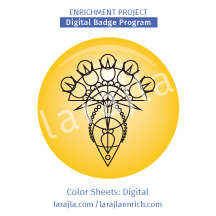 Take the next step from coloring the sheets to designing them yourself.
From using public domain images to photographs, there's a lot to explore as you create your own sheets.
Steps
1. Into the computer.
Whether it's a design you've drawn, photographed or found in your personal belongings, you digitize flat images with a scanner. 3D images can be scanned or photographed. Explore various ways to get non-digital items onto your computer so they are easier to work with. Be sure to document your experiments so you can recreate the process in the future.
2. Your rights.
Before using purchased digital items, read what rights you have with the items you've purchased or gotten for free. Some companies will let you use purchased digital items royalty free. Some companies limit the times you can use a piece before expecting you to pay more. Some differentiate between "personal" and "commercial" use and have different rights for these.
If you're making your digital color sheet for yourself and your kids, don't worry. If you plan on sharing it, even for free, be sure you are not violating the digital provider's rights.
Software Explorer
3. Bitmap vs. vector.
Digital items normally come in two formats — bitmapped or vector. Bitmapped or raster images are made up of dots. When you increase the size of an image the number of dots stays constant, so you're making your image appear blurry or jagged as the dots become larger. Items which fall into the "bitmapped" type include photos, scanned images and continuous tone images. Most images you'll see on online sites are bitmapped. Try to copy / paste an image from a website to a program on your computer. Make it larger and see what happens to it.
Vector images are created from endpoints with lines between them. Everything is mathematically plotted. For this reason, the same image looks just as sharp when printed to be placed in a bottle cap as it does on a billboard. Personally, I prefer vector images. They are easier to work with and once they are the size you want, you can create a bitmapped image from them easily.
4. Bitmap / raster programs.
Adobe Photoshop is the standard, but it is difficult to learn. Most operating systems come with a simple program such as "Paint." You can find online programs to adjust and manipulate photos. Explore your computer as well as online to see what you can use to adjust photos for coloring sheets.
5. Vector programs.
Adobe Illustrator is a standard as well. Drawing programs are also within a variety of price ranges. Often their capabilities are different. Explore your computer and online to find one you can use for coloring sheets.
6. Don't forget the apps.
There are apps that can help you adjust images for coloring sheets or even create original designs like mandalas. Explore the apps on your mobile device. Can you create original coloring designs with them?
7. Filter fun.
Filters are available for top-of-the-line bitmap and vector programs that allow you to apply changes to your images in predetermined ways. Some are available as add-ons to your image software. Some are stand-alone. Explore the filters available with your software.
Items for Your Coloring Sheets
8. Clip art.
Clip art normally comes in two formats — bitmapped or vector. Vector are more easily resized, but both can be manipulated with software to achieve final coloring sheets. Look at clip art you have available to you. Can you use it in a color sheet?
9. Lettering and fonts.
You can use a font with your computer or write something out on a sheet of paper and digitize it. Experiment with lettering and fonts. Do you want to do a huge initial letter for one of your children? Perhaps a word that resonates with your family? Even a quote from your favorite author to put on your wall is an option.
10. Photos.
Before you protest your photos aren't colorable, realize you need to adjust your photos into "line art." You can use a light table with your photo and tracing paper to create an outlined version of your photo. You can do the same with software. In addition, you have more control over the detail you leave in or take out with your software. Experiment with adjusting the settings in your image software program until you have a grayscale or black and white colorable image.
NOTE: Always do a "save as" so your original image is not lost while you're creating color sheets.
11. Public domain images.
Public domain images have either had their copyright expire or the owner of the copyright has given the material to the public. You can find a variety of photos, line art and more that you can use in your own color sheets. For example, you could take Leonardo da Vinci's sketches and use those in your coloring sheet. Pixabay.com provides free newer images you can use in your sheets. Look through public domain images for something you can use.
Finish Your Coloring Sheets
12. Saving and exporting.
Formats you can save your coloring sheets as include:
Vector — EPS / SVG
Bitmapped — GIF / JPG / PNG
Printable — PDF
You may want to keep more than one version yourself. Always keep a backup of your original and adjusted files. Experiment with exporting and printing the different formats. Do you have one you prefer?
13. Sharing.
You can share your color sheet to get feedback from others. Use the feedback to improve your designs until you're ready to sell a few.
14. Courses.
If you don't feel comfortable making your own digital coloring sheets, you can check out videos on YouTube or take a course. Tony Laidig (tonylaidig.com) taught a series of classes on coloring. They are worth the money if you are interested. The Color Fun series is loosely based on his classes.
Supplements
SUPP_CS Digital_2in_12up_larajla
Avery 2" round label printable, 12 up
SUPP_CS Digital_Checklist_larajla
SUPP_CF Basics_ATC Phrases_9up_larajla
ATC cards with phrases to color
SUPP_CF Basics_Clip Art_01_larajla
Clip Art Color Sheet 01: Puzzle Pieces
SUPP_CF Basics_Clip Art_02_larajla
Clip Art Color Sheet 02: Unicorn
SUPP_CF Basics_Clip Art_03_larajla
Clip Art Color Sheet 03: Heart of Hearts
SUPP_CF Basics_Photos_01_larajla
Photo Color Sheet 01: Cherry Blossoms
SUPP_CF Basics_Photos_02_larajla
Photo Color Sheet 02: Sunflower
SUPP_CF Basics_Photos_03_larajla
Photo Color Sheet 03: Cat in the Moon
SUPP_CF Basics_Round 6_01_larajla
Sample from my coloring book, Color on the Rounds: Rounds on the 6s — sheet from the front cover
SUPP_CF Basics_Round 6_02_larajla
Sample from my coloring book, Color on the Rounds: Rounds on the 6s — random color sheet
SUPP_CF Basics_Round 9_01_larajla
Sample from my coloring book, Color on the Rounds: Rounds on the 9s — sheet from the front cover
SUPP_CF Basics_Round 9_02_larajla
Sample from my coloring book, Color on the Rounds: Rounds on the 9s — random color sheet
SUPP_CF Basics_Round 12_01_larajla
Sample from my coloring book, Color on the Rounds: Rounds on the 12s — sheet from the front cover
SUPP_CF Basics_Round 12_02_larajla
Sample from my coloring book, Color on the Rounds: Rounds on the 12s — random color sheet
Sites to Explore
Get the infographic here > larajla blog post
Get the PDFs of the badge program / supplements here > Full badge PDFs