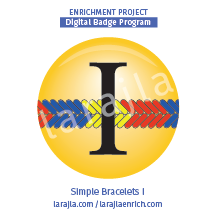 Simple bracelets are not only a great way to start experimenting with making jewelry, they are great gifts that make up pretty quickly. Be sure to keep notes and take photos of your bracelets so you can recreate any you design.
NOTE: Do to the variety of ways they can be made, this badge program was split into two in 2017.
Steps
1. Friendship.
Friendship bracelets normally involve embroidery floss that is braided, knotted or woven into a bracelet. Experiment with different techniques to make a simple friendship bracelet.
2. Rainbow loom.
If you don't have a loom, you can use a crochet hook or stick for simple bracelets. Start with a simple pattern with a rainbow loom. If you like it, try something more difficult.
3. Kumihimo.
Kumihimo, or Japanese braiding, is another easy way to make a bracelet. You can purchase a wheel or make your own. Find and try a simple kumihimo bracelet.
4. Macrame.
Macrame bracelets use hemp or a slightly thicker cord. You can choose to add beads. Try making a macrame bracelet.
5. Paracord.
Paracord is an extremely popular cord to make bracelets and comes in a wide variety of colors. Try making a paracord bracelet.
6. Cord-wrapped.
Take a thicker cord and wrap embroidery floss over it. Can you find a different way to cover the bracelet other than just wrapping it?
7. Simple bead.
The simplest way to make a bracelet is to string a single row of beads onto a strand of cording, stretch elastic, or even memory wire. Experiment with making very simple, single-strand bracelets.
8. Chain and charm.
Another simple way to make a bracelet is to use a piece of chain and put a charm on one of the "o" rings at the end or the clasp itself. Try making this simple bracelet.
9. Safety pins.
Another easy bracelet is to put seed beads on one side of the safety pin and close it. Then, string the safety pins together with the beads facing out. Experiment with this type of bracelet.
10. Pop-tab.
Weave pop tabs with elastic to create a bracelet. This is a great camp craft! Try it.
Supplements
SUPP_Simple Bracelets I_2in_12up_larajla
Avery 2.5" round label printable, 12-up
SUPP_Simple Bracelets I_Checklist_larajla
Sites to Explore
Get the infographic here > larajla blog post
Get the PDFs of the badge program / supplements here > Full badge PDFs