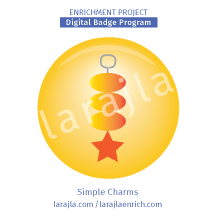 You can make charms with a head pin and beads. Let's make some charms and explore how we can incorporate them into jewelry and fashion.
Steps
1. Materials.
Before we start, we'll need some items. For materials, collect the following:
Head pins, flat
Beads — glass, acrylic, etc.
Crimps
Ear wires
Jump rings
You may adjust this list as you work and find additional items you'd like to include / remove.
NOTE: If your bead is too large and comes right off the wire, use a smaller bead or crimp bead under the large bead.
2. Tools.
You'll need some jewelry tools as well. For tools, collect the following:
Round nosed pliers
Long nose pliers
Diagonal cutting pliers
If you have additional jewelry tools, you may choose to have those available as well.
3. Assembly.
There's a reason the charms are simple. Choose your headpin and add the beads as you desire. Be sure to leave enough wire to make a loop above the beads. Younger participants may have problems with making loops, so you may need to have someone help with that if you want to use this for a troop / group activity.
If you want to use a single bead and don't want it to move, you can add a crimp bead above the focal bead and then leave empty wire above it. Crimp pliers work better for this, but you can use other pliers.
4. Loops.
After assembly, you'll need to determine where the final charm will be placed.
You can finish with a plain loop which requires 3/8″ – 1/2″ of wire. With round nosed pliers, grasp the end of the wire about a third of the way from the tip and roll to create a closed loop. You can bend the wire slightly where it starts to turn to create a centered circle at the top of the head pin. Use the plain loop for charms where you won't be doing a lot of pulling on them.
A wrapped loop will need about 1″ of wire. Wrap the wire around the jaw of the round nosed pliers. With your hand or another pair of pliers, grab the short wire and wrap it around the wire the beads are hanging from. One wrap will secure it, but if you plan to pull on it, you may want more loops to keep it intact. Trim the excess wire from the end.
Practice making both types of loops as you create your charms.
Uses for Simple Charms
5. Zipper pull.
If you're looking for a zipper pull, definitely use a wrapped loop at the end. You'll need to put a jump ring between the charm and the zipper. If you are very aggressive with your zipper, you may wish to use a split ring instead of a jump ring. Make a zipper pull.
6. Keyring.
You can add charms to a keyring. Again, this is definitely a wrapped loop charm. I would use a split ring (you'll want the special pliers as well because it makes it MUCH easier). Create a charm you can use on a keyring.
7. Pendant.
You can use a charm for a pendant on a necklace. You'll want to use larger focal beads (or bead). Personally, I'd use a wrapped loop for these as it looks nicer. Design a simple charm so it can be used for a pendant.
8. Earrings.
When you want earrings, you'll want to create two charms. You can use either loops for these. Choose whether your charms will match or if they need to mirror each other so you have a "left" and "right" earring. The beads you choose may determine which way works better. Make a pair of earrings.
9. Charms.
You can use the charms as they were meant to be — charms. Create a few single, short charms that can be incorporated into a larger project. You can use either of the loops for these as well. Use the charms in a bracelet, as part of a necklace, etc.
10. Experiment.
Where else can you use simple charms? Don't think of just what you would wear. You could make items for dolls, to hang from your rearview mirror or even group them into interesting art.
NOTE: Headpins come in a variety of lengths. You can also get them with loops (eyepins) where you can add another charm(s). You may also choose to make your own headpins.
Supplements
SUPP_Simple Charms_2in_12up_larajla
Avery 2.5" round label printable, 12-up
SUPP_Simple Charms_Checklist_larajla
Sites to Explore
Get the infographic here > larajla blog post
Get the PDFs of the badge program / supplements here > Full badge PDFs