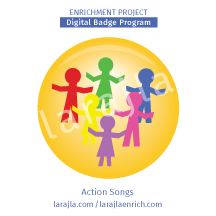 It's time to get up and move! You don't have to be the best singer to have fun. Sometimes, your actions may take your whole body, but action songs can also include fingerplays and sign language.
Steps
Preparation
1. Tunes and actions.
Before you can teach it, you need to know it. You can find videos and instructions online to help you learn songs or refresh your memory. A few links can be found in "Sites to Explore" to start your adventure. To help your search, check out the Enrichment Project song supplements listed below. They include both the actions and the songs.
2. Song list.
If you are working an event, meeting or class, make sure you have a song list ready to go. To determine your song list, review these factors:
Age of audience
Attention span of audience
Length of time you need to fill
Area you have to move in
You will also want to choose slower songs at the beginning and end to warm up and cool down. The middle should feature really moving tunes!
3. Practice.
Practice the songs / movements with your list or note cards. This will help you when you're in front of an audience and become nervous.
Hello, audience!
4. Familiar.
Your first song should be something most, if not all, of your audience knows. Starting out with a success boosts their confidence. They'll be more willing to try new songs if they're already on their feet and enjoying themselves.
5. Signals.
Create signals to stand up, start singing, etc. People who are not paying close attention or are too far away to see your subtle physical clues will appreciate you raising your hands above your head to ask them to stand up.
6. Mix it up.
You'll want to mix old favorites with new songs. This might include songs that have a new take on an old version. You can help your audience by preparing song sheets to distribute at the event so they can follow along.
7. Add actions.
Sometimes teaching a new song is difficult. Adding a few actions can help be a memory trigger. At this point, you're now creating an action for a song that didn't have one before. As you listen to songs, think about what actions you could add to help share the song.
8. Share the lead.
If someone on the spot wants to lead an action song that's on your list, be gracious and let them. It will give you a bit to rest. Record their presentation or request a copy of the song and actions so you can add it to your own songbook for future events.
9. Find a partner.
If you're uncomfortable doing action songs or you are doing a very large event, find a partner(s) may be the answer. Often, young people will volunteer to help you teach others songs. Placing additional volunteers in different areas will allow you to work with a larger audience. Remember, if you have partners, you'll need to practice even more so you're all doing the same thing.
10. Share.
After the event, offer to email any handouts or song lists to your attendees. This helps them share the songs with others who couldn't attend and may actually encourage them to do their own action song event!
Supplements
SUPP_Action Songs_2in_12up_larajla
Avery 2.5" round label printable, 12 up
SUPP_Action Songs_Checklist_larajla
SUPP_Song Fun_Find Tunes_larajla
How to find songs on the Web
SUPP_Song Fun_A Ram Sam Sam_larajla
SUPP_Song Fun_Ali Babas Camel_larajla
Song Fun: Ali Baba's Camel
SUPP_Song Fun_Alligator Song_larajla
SUPP_Song Fun_Ankles Elbows_larajla
Song Fun: Ankles, Elbows, Feet and Seat
SUPP_Song Fun_Baby Bumblebee_larajla
SUPP_Song Fun_Bear Hunt_larajla
SUPP_Song Fun_Beaver Song_larajla
SUPP_Song Fun_BINGO_larajla
SUPP_Song Fun_Boom Chicka Boom_larajla
Song Fun: Boom Chicka Boom
SUPP_Song Fun_Brownie Smile Song_larajla
Song Fun: Brownie Smile Song
SUPP_Song Fun_Cheering GS_larajla
Song Fun: If You're Cheering for the Girl Scouts
SUPP_Song Fun_Da Moose_larajla
SUPP_Song Fun_DADDY_larajla
SUPP_Song Fun_DAISY_larajla
SUPP_Song Fun_Heads Shoulders_larajla
Song Fun: Head, Shoulders, Knees and Toes
SUPP_Song Fun_Little Green Frog_larajla
Song Fun: Little Green Frog
SUPP_Song Fun_Mister Alligator_larajla
Song Fun: Mister Alligator
SUPP_Song Fun_Penguin Tea_larajla
Song Fun: Have You Ever Seen a Penguin Come to Tea?
SUPP_Song Fun_Pirate Song_larajla
SUPP_Song Fun_Princess Pat_larajla
SUPP_Song Fun_SANTA_larajla
SUPP_Song Fun_Singing in the Rain_larajla
Song Fun: Singing in the Rain
SUPP_Song Fun_SPLAT_larajla
SUPP_Song Fun_Strut Miss Lucy_larajla
Song Fun: Strut Miss Lucy
SUPP_Song Fun_TAPS_Short_larajla
Song Fun: TAPS, Short Version
SUPP_Song Fun_Tarzan_larajla
SUPP_Song Fun_Waded Water_larajla
Song Fun: She Waded in the Water
Sites to Explore
Get the infographic here > larajla blog post
Get the PDFs of the badge program / supplements here > Full badge PDFs