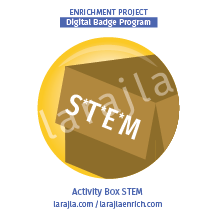 Placing one or more science activities in a box with a common theme is a great way to not only introduce different scientific concepts, but share them with others. Of course, you can buy premade kits or use a subscription service, but why not make your own with available online information?
Steps
1. Science Center.
In the Enrichment Project Science Center badge set, there are a lot of ideas for making exhibits and experiments. You can use these in your box activities. Alternatively, you can create a Science Center from your science boxes and use those to share with others. Explore the following badges for starting ideas:
Science Center X: Animals
Science Center X: Build
Science Center X: Color
Science Center X: Detective
Science Center X: Earth
Science Center X: Experiment
Science Center X: Games
Science Center X: Human
Science Center X: Light
Science Center X: Movement
Science Center X: Nature
Science Center X: Senses
Science Center X: Tech
Science Center X: Water
2. Your expertise.
You may have favorite experiments you've done yourself, done them with your kids or tried one or more at a science museum. Brainstorm your own ideas for your activity box. Be sure to keep notes of this and everything you do during this process. Even if you don't use something for one activity box, you might have inspiration for the next.
3. Find your experiment.
Finding your experiment or activity might involve searching online, watching videos, looking through science fair books, visiting the library, etc. Select more than one version of the same experiment so you have variables in case your first design doesn't work the way you want and you need to tweak it. Do an initial run through of the experiment. Keep notes on what works, what doesn't and what adjustments you want to make.
4. Theme.
What are you planning on presenting with your box? Do you want an introduction to astronomy? Perhaps card games to learn to identify animals? By making everything in your box work under a single theme, activity or type of science, your box will give your users multiple experiences on one topic. This will help broaden their understanding. Decide what one idea you want to carry through everything in your box.
5. Audience.
Keep your audience in mind. You may want to limit usage of the box to certain ages or abilities. Simpler activity boxes can be created for younger audiences while more difficult ones can be created for older audiences. You can even create a series so the boxes build upon each other so their STEM knowledge grows within the series. You may even want to create additional items like puzzles and worksheets for a younger audience to introduce them to the terms for the type of STEM you're presenting with your box.
6. Printables.
Provide printables, instructions, forms, etc. for your activity or experiment. Be sure each piece is as simple as possible to follow. You may find that pictures work better than words for instructions. If you're unsure, ask someone to read the each piece and give you feedback.
NOTE: You may want your user to provide some items. This might be paper, standard kitchen chemicals, safety goggles, aprons, water, etc. Be sure this is spelled out in your instructions.
7.  One or more.
Are you going to put one or more experiments /activities in your box? You may want to create a box that gives a better insight into the scientific inquiry you are pursuing. Adding a word game, second experiment or additional activity may make your activity box more memorable.
Alternatively, you might want to limit yourself because of the size of the items needed for the experiment. For example, printables are easy to include and don't take up a lot of room because they're flat. Beakers would take more room. Some items might not even fit in the box. In addition, you may need special containers within your box to keep wet or powered materials away from contaminants. From previous steps, put the items into your box. Do you have room for more? Would you rather have one experiment / activity per box?
8. Create an experience.
Collect all the materials you need for your activity or experiment. Create those you can't find elsewhere, including the instructions to do the activity. Test your activity to make sure everything is included and works the way you intended. When you're happy with the result, you have your first activity. Do you want to put more than one activity in your box? Look through the steps in this badge program for other ideas.
NOTE: As you're working through this step, keep detailed notes. You may find variations to your activities that you want to include in the information you provide.
9. Safety.
Be sure safety is part of every project. An accident with chemicals can cause serious injury in some cases. Be sure you make any warnings a bright color or provide a consistent graphic that shows when steps might be dangerous. Be obvious and consistent.
10. Tracking.
Be sure to review everything in the box with a user before they take it. Have a checklist available for you and the user to sign. Use this again when the box is checked back in. That way, both you and your user are aware of the box contents.
11. Make it better.
You can make your box better by adjusting per your testing phase. Including your feedback form will allow others to help you with more ideas to improve your box. Keep track of these items and periodically review your box and improve it.
Supplements
SUPP_AB Digital_Feedback_larajla
Digital form to include in your digital activity box so you can get feedback from others to improve it
SUPP_AB Digital_Tracking_larajla
Tracking resources you find online to refer to later
SUPP_AB_Checkout Sheet_larajla
Check in / out items along with notes for exceptions
SUPP_AB_Updates Needed_larajla
Sheet to record what needs to be updated / fixed in a specific activity box
SUPP_AB Games_2in_12up_larajla
Avery 2" round label printable, 12 up
SUPP_AB Games_Checklist_larajla
Sites to Explore
Get the infographic here > larajla blog post
Get the PDFs of the badge program / supplements here > Full badge PDFs