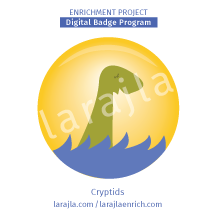 Cryptozoology studies cryptids or animals whose existence is or has been questioned by the scientific community. Some people refer to it as "monster hunting." Finding and proving the existence of these creatures is a great mystery to stimulate the imagination.
Steps
1. One cryptid.
Big Foot, Yeti, Sasquatch, Abominable Snowman — this cryptid is the most famous and goes by many names. In North America, it's referred to Big Foot. In the Himalayans, it is the Yeti. The exact description varies, but in all descriptions of the creature it is a bipedal ape about 7′ tall. There have been numerous reports around the world. Find out more about this type of cryptid.
2. Loch Ness.
Nessie, or the Loch Ness monster, lives in Scotland. It is a dinosaur-like creature. A photo was taken and published in 1934, but there still is no proof that it exists. Many people have tried to find proof in Loch Ness (lake). Another dinosaur-like creature supposedly lives in Lake Champlain in the US. Find out more about this type of cryptid.
3. Chupacabra.
In relation to other cryptids, the chupacabra is new with first sightings in 1995. It is supposed to be between the size of a dog and small bear. It has been reported in Latin America and up into Maine. Some believe they are diseased coyotes. Find out more about this cryptid.
4. Ogopogo.
The ogopogo is believed to be in Lake Okanagan in Canada. Sightings have been reported since 1860. It looks like a cross between a dinosaur and a serpent. Find out more about this cryptid.
5. Jersey Devil.
The Jersey devil is believed to be a winged bipedal horse in the United States. It dates back to the 1700s. Claims of red eyes and a high-pitched squeal as well as many more are made every year. Find out more about this cryptid.
6. Mokele-Mbembe.
The mokele-mbembe is believed to be a reptile in the Republic of the Congo. This is a modern dinosaur with a body like an elephant and a long neck. Sightings go back to 1776. Many expeditions have failed to bring back proof. Find out more about this cryptid.
7. Mothman.
The mothman is believed to be a winged biped in the United States since 1966. It is man-sized and gray with glowing red eyes. Find out more about this cryptid.
8. Naga.
The naga is believed to be a large snake found in Thailand and Laos. It is a serpent which creates fireballs which raise into the air and disappear. Find out more about this cryptid.
9. Merpeople.
Many believe merpeople (mermaids and mermen) are hoaxes. They are said to be a combination of humans and fish that can be found in waterways worldwide. Find out more about this cryptid.
10. No longer cryptids.
When evidence is found of existence, a creature ceases to be a cryptid. Do you recognized any of these former cryptids?
Platypus
Okapi
Giant squid
Komodo dragon
Find out about how these and similar cryptids became proven creatures.
11. Search.
Find out if there are any cryptids in your area. If not, find one that interests you and research it. How does it compare with the other cryptids? What proof exists?
Supplements
SUPP_Cryptids_2in_12up_larajla
Avery 2.5" round label printable, 12 up
SUPP_Cryptids_Checklist_larajla
Sites to Explore
Get the infographic here > larajla blog post
Get the PDFs of the badge program / supplements here > Full badge PDFs