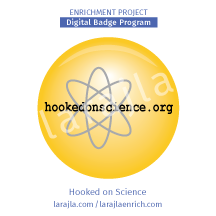 Hooked on Science is not only award winning, it is a full-service site which can help elementary students interested in science to get started.
Steps
1. Hooked on Science.
Check out the site listed above to start learning about "Hooked on Science." The steps below will feature some cool things you may want to check out.
NOTE: His site changes with holidays / seasons, so you'll probably want to check it out more than once.
2. Jason Lindsey.
Learn about Mr. Science — Jason Lindsey is a science educator, author and television meteorologist. He performs science experiments at schools and community events through the United States. Learn about the man behind the site.
3. Experiments.
Jason archives his experiments on his site. They are arranged for kids from kindergarten to 5th grade. Check out a few of his experiments. If you see one you're interested in, be sure to save it for your next science fun day!
4. Homeschoolers.
Jason also provides affordable science for homeschoolers. Check this out as well as other items he has for sale.
5. Science support.
In addition to games on his site, there are free worksheets which help with organizing a family science night and science fair. You can also find basic science and math skills to help young kids. Check out some of the worksheets.
6. Facebook.
www.facebook.com/HookedOnScience
Keep up with Jason's latest by subscribing to his Facebook page. He shares where he's been teaching, television appearances and more.
7. YouTube.
www.youtube.com/user/HookedOnScience
If you learn better by watching videos, head over to the Hooked On Science channel on TeacherTube. You can see science in action. Watch a few videos to see if this is something you'd like to incorporate in your own science offerings.
8. Segments.
You can check out some television segments to see even more! At the bottom of his main page, see the images of the networks which have hosted Jason Lindsey.
9. Newsletter.
If you enjoy his offerings, be sure to sign up for his eScience newsletter.
10. More?
Check out the quick science links on his site. Find even more science resources. Be sure to document your trip so you can return to the sites you enjoyed.
Supplements
SUPP_ Hooked on Sci_2in_12up_larajla
Avery 2.5" round label printable, 12 up
SUPP_ Hooked on Sci_Checklist_larajla
Sites to Explore
See links in steps above.
Get the infographic here > larajla blog post
Get the PDFs of the badge program / supplements here > Full badge PDFs