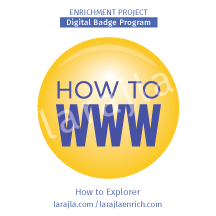 "How to" sites are very popular on the Web. This badge will help you explore and find "how to" sites that you like to give you resources for your badge fun.
NOTE: The Enrichment Project will utilize many of the "how to" sites to keep the cost of earning badges low (and hopefully always free).
Steps
1. Web surfer.
Visit some or all of the sites listed in the supplement of this badge program. You can also search for how to sites within your favorite search engine.
2. Bookmarks. 
Create a special folder in your favorites / bookmarks to hold the "how to" sites you like for future reference. Feel free to make smaller folders within the main one to help break your areas from general sites to those specific to crafting, cooking, STEM, etc.
3. Your picks.
You'll find even more in the sites as you visit them including podcasts, videos, printables, etc. Explore the sites and find out which ways you feel most comfortable learning.
4. Online possibilities.
"How to" resources can be accessed through other means besides your computer. From a local library's network to your smart phone, explore other ways you can learn online.
5. Your interests.
Start a document, spreadsheet or database. Note what subjects interest you on the sites you bookmark. This will help you identify at a glance where materials are whether you're looking for supplements to a badge program, possible activities at an event or meeting and more.
6. Find more sites.
Try searching for "how to", "free classes" or anything else you can think of to expand your list of sites. Make sure you make bookmarks / favorites of those sites that you feel will be helpful later.
7. Narrow.
Now that you have found general sites, try narrowing you search into fields or niches that interest you. Add these notes to your list from Step 5.
8. Share.
With your research complete, share any sites you found with others who have similar interests. Add a comment about what's on the site and why you like it.
9. Keep what you find.
Sometimes you'll find something that you want to keep. Printing it all out is costly and storage of printed documents can quickly become overwhelming.
By keeping a digital library of those special articles, podcasts, etc. you can sort them and have them available when you're putting together a meeting or event. Print PDFs for reference. Keep a listing of your digital finds so you locate individual items later.
For more ideas, check out the "Activity Box Digital" badge program.
10. Update.
Sites frequently change and the information you want may or may not remain. As you visit your "how to" sites, be sure to update your links and tracking document (Step 5).
NOTE: If you keep the URL for the site, you can use the Wayback Machine on archive.org to find the text that was on the site. It doesn't normally back up images, videos and other attachments, but sometimes what you want it in the text itself.
Supplements
SUPP_How2Site Explorer_2in_12up_larajla
Avery 2" round label printable, 12 up
SUPP_How2Site Explorer_Checklist_larajla
SUPP_How2Sites Explorer_Found_larajla.pdf
Track additional sites you find
SUPP_How2Sites Explorer_Links_larajla .pdf
Links for "how to" sites you can explore
Sites to Explore
See the links supplement for this badge program for a list of sites.
Get the infographic here > larajla blog post
Get the PDFs of the badge program / supplements here > Full badge PDFs