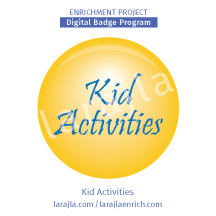 Looking for a never-ending list of activities for your kids.
Let's check out Kid Activities for everything from crafts to dramatics.
Steps
1. Kid Activities.
The site claims to have 1,000s of ideas. Start exploring the 335 categories for ideas for pre-kindergarten to school-aged kids.
2. Tips.
www.kidactivities.net/post/Tips-on-Using-KidActivitiesnet-Website.aspx
Before digging too deep, you may want to check out their tips page. With so much material (over 6,000 pages), they try to make it more manageable. Read through the tips if you're getting frustrated or want to get the most out of this site.
3. Season.
The site likes to highlight seasonal activities. If you're looking for activities broken into these areas, this is a perfect site for you. Even if you don't want the activities, the calendar list of observations alone can get you started on ideas.
4. Holidays.
In addition to the seasonal offerings, you can find holiday activities as well. Check out one or more holidays. How might you incorporate this into your offerings?
5. Activities.
The activities on the site are educational, non-educational, cultural, play and more. There's too many to list, so you may want to keep your own notes as you go through the site.
6. Themes.
Looking for a theme for your event or meeting? They have many to choose from. In addition to an explanation, they have information from all of their activities on the page that fit within a single theme. Talk about a great idea! Choose a theme and look through it. Is it something you could present to your kids?
7. Clubs.
Interested in starting your own club? You can find information on starting it. They highlight topic (one area of focus) and thematic (variety of activities from related items) clubs. Check out the information to see if you might be willing to start a club.
8. Service.
From community service to random acts of kindness, they have a lot to choose from. Doing activities for oneself is great. Doing them for someone else is AWESOME! Check out the ideas available and note any you might want to do in the future.
9. More.
In addition to the activities, there are articles, tools and games as well. Be sure to look through those areas for information and ideas beyond specific activities.
NOTE: If you see something you want to keep, be sure to print or PDF it. That way, you can sort the ideas to keep track of them. See "Activity Box Digital" for more information on creating themed information organized for later retrieval.
10. Facebook.
www.facebook.com/kidactivities
Check out their Facebook presence to see what items they've highlighted from their site. It's a great way to experience Kid Activities without being completely overwhelmed by the site.
Supplements
SUPP_Kid Activities_2in_12up_larajla
Avery 2.5" round label printable, 12 up
SUPP_Kid Activities_Checklist_larajla
Sites to Explore
Links are listed in the steps above.
Get the infographic here > larajla blog post
Get the PDFs of the badge program / supplements here > Full badge PDFs