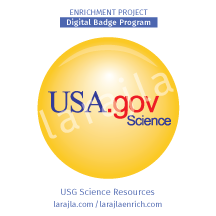 The United States federal government has many resources we can use for our Science Center as well as science activities that might be better for smaller groups. Due to the numerous possibilities, this badge program comes in two parts so we can cover more of the offerings from our government. Our tax dollars pay for this, so it is our resource!
Steps
1. Find.
The United States government is funded by tax dollars. For this reason, there are many resources for scientific endeavors. Look through the sites listed in this and the "USG Science Specific" badge program. Be sure to track what you find if you want to go back. You will probably feel overwhelmed, so preparing now will help later.
2. Copyright.
Most materials you can find on government sites are considered public domain. Public domain resources allow you to not only use what you find as you wish, but you can create your own derivative works from them. So, if you find a resource but want to make it easier for younger group and later share it with others, you can!
NOTE: Some items may be done in collaboration with others or hired out and may not fall into the public domain.
3. Use.
Any items that you find that are in the public domain may be used "as is" or adapted. In either case, you do not have to pay for the materials. I like to include where I found the information it so if someone is interested, they can continue exploring on their own. As you work through these sites, be sure to save anything you feel you'd want later for a Science Center or event. Be sure to use an organizational system that will allow you to find the materials later.
4. State.
While the federal government materials are often public domain, state government items are not. Be sure you check these carefully before using anything. If you're using these with your own family or group, there shouldn't be a problem.
US Government General Sites
5. Official.
There are a lot more pages and sites that are not listed here. You can look through the federal agencies list on this site to find more information on those and what each offers. Share any exciting science educational offerings you find!
6. Science.
You've found the gateway to the US federal science information. This site searches over 60 databases and 2200 websites for your scientific needs. Explore how this works.
7. Education.
ERIC indexes a wide variety of journal sources. 80% or more are education related. You can search for a topic and then continue to drill down for specific information. Start by going to the FAQ and check out the infographic for how research becomes one of over 1.6 million ERIC records. Do some searches for science topics that interest you and see what you can find.
8. Open Data.
Data, tools and resources you can use to research and develop your own resources. You can even find apps to help in your exploration of data and science. You can do a search of the datasets or browse one of the following science topics:
Agriculture
Climate
Ecosystems
Education
Energy
Health
Ocean
Science and Research
9. Library of Congress.
The Library of Congress is the largest library in the world with millions of books, recordings, photographs, maps and manuscripts. Check out the education resources for information to help you with your science endeavors or images that you might incorporate in your Science Center.
NOTE: Be sure to check out the Library of Congress Magazine for overviews on what it does, items in the collections and more.
10.  NSF.
Search through the National Science Foundation discoveries for information you can use with your science presentations. This information is provided to provide people with ideas and tools to make discovery possible. Also check out the educational resources and documents. There are many areas of science and education covered.
Supplements
SUPP_USGS Resources_2in_12up_larajla
Avery 2.5" round label printable, 12 up
SUPP_USGS Resources_Checklist_larajla
Sites to Explore
Sites are listed in the steps above.
Get the infographic here > larajla blog post
Get the PDFs of the badge program / supplements here > Full badge PDFs