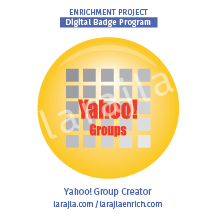 You should complete the "Yahoo! Group Explorer" badge or have equivalent knowledge before attempting to do this badge program. We'll look deeper into the possibilities of hosting your own Yahoo! Group.
Steps
1. Log in.
While you can be in a group without a Yahoo! ID, you can't create one if you don't have one. To create a group, you need to be logged in.
2. Categories.
Explore the categories and find a group similar to yours. Search by various terms *you* would use. Where are is the group located within the categories? You may find more than one possibility for your group's location. You will want to go deeper than one level to put yourself into a "niche." Make a note where you want to be placed so you're ready for this question.
3. Facts.
You want a unique name. You may want your name to be easily identifiable with your group's purpose or have a completely unique name that you plan to build into a brand. Write down a few ideas. Check to see if there are groups with the same or similar names before choosing one.
You'll also want to create a group description before you start. Proofread it carefully to make sure you have no errors. After your group name, this is the item most people will read.
4. Management.
Explore your group management. This is where you control what happens in your group. These include:
Group Settings
Access Control
Moderation
Email Template
Notifications
About Group
5. Confusion.
Make any adjustments you feel are necessary. If you're unsure, check out other groups you belong to and see what they do.
Ask the moderator why certain settings are selected and decide if that's what you want too.
Be aware that the black button with a question mark is the help button. If you have questions, it's a great place to start!
Basic Tools
6. Conversations.
Messages and mail come not only from the people in your group. Yahoo! can send out a message when you add files and do other work on the group's pages. Here are a few message issues to start thinking about. Review your group to see what other tweaks you want.
Attachments
Approval before releasing mail
Archiving mail
7. Photos.
When you just want to show finished projects, photos or other viewable items, you'll want to use the Photos area. Create photo albums for uploads if you want to keep them organized and give your users an idea of what is and is not acceptable to include. Decide how photos can help your group and if you want to include these.
8. Files.
Before starting your filing system, think about the files you'll be uploading. Ask yourself how these can be grouped into folders. If you are allowing others to post files into your area, you may want to create empty folders with descriptions so they know where to place items.
Remember you have a limited space. If you approach the file limit, you will need to remove some. This may just be deleting and keeping them available for request offline or finding a different place online to keep them. Decide how you want your members to use your File area.
9. More tools.
There are even more tools at your disposal as moderator of your group. Check out these and determine if they will benefit your group.
Attachments
Events
Polls
Links
Database
10. Invite.
You can invite people to your group by going to Management and then Manage Members. You'll see the purple invite button.
This is great for people who will be willing to help. However, you may want to wait until you've set up your design and played with it a bit before releasing it to the world. Invite people by using the "Invite" link to send invitations to individual email addresses. If the addresses are not Yahoo! IDs, you may want to suggest they obtain one for additional access to group information.
11. Share.
If you've created your own group, share it with similar groups you belong to after making sure it's okay with the moderator. You can also provide the link to other groups outside of Yahoo!.
Supplements
SUPP_Yahoo Group Creator_2in_12up_larajla
Avery 2" round label printable, 12 up
SUPP_Yahoo Group Creator_Checklist_larajla
Sites to Explore
Get the infographic here > larajla blog post
Get the PDFs of the badge program / supplements here > Full badge PDFs