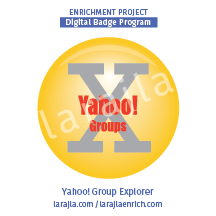 Yahoo! Groups allows you to not only share emails with people interested in the same things, but you can also share photos, create databases and more. Through Yahoo! Groups you can participate in a community you are passionate about.
The best part of using Yahoo! Groups . . . it's FREE!
Steps
1. Yahoo! ID.
Creating an account allows you to log into the Web site that houses each Yahoo! Group. Without an account, you can still join a group and receive emails from it. However, there are many choices for the moderator / host to provide for their group such as photos, files and links. If you already have a Yahoo! Mail account, use that login information.
2. Browse.
Wander the categories of the Yahoo! Groups directory. You can find the button toward the bottom of the left column. Become familiar with how categories are structured. Find areas of interest to you. The top level includes:
Business & Finance
Computers & Internet
Cultures & Communities
Entertainment & Arts
Family & Home
Games
Government & Politics
Health & Wellness
Hobbies & Crafts
Music
Recreation & Sports
Regional
Religion & Beliefs
Romance & Relationships
Schools & Education
Science
3. Search.
Type in a keyword (or more) to find items that you are interested in and see what Yahoo! Groups has to offer. When you search for groups, you get a thumbnail of the group.
4. Join a group.
Find a group that looks interesting to you. Do not be shocked if you are not immediately admitted. Groups can be open (you can join with just a click), restricted (you need moderator approval to join) or closed (you can only be admitted if you've been invited). If "closed", the group may not be listed in the directory. Many groups are restricted to keep spammers and troublemakers to a minimum.
5. Group choices.
Groups come in a wide variety of types. Businesses can put out a newsletter that does not allow people to reply to the group. Some groups are interactive and everyone posts . . . frequently. The moderator sets up what users can and cannot do in the group.
Many groups have rules. If you do not see rules posted and they do not come to your email box, follow the general rules of online etiquette.
6. Features.
Log into your Yahoo! Group. Check to see which of these features your group has. See how they are set up and how they work.
Conversation (mail) – you can post from your email OR on the group's site
Photos
Files
Links
Polls
Database
7. Main screen.
When you log into Yahoo! Groups, you'll see a list on the left of your top 10 groups. When your number of groups exceeds the allotted space, you can choose "All My Groups" to get to the rest of your groups. You can also "Manage My Groups" to put those that you go into the most frequently at the top of your default list. You can do this by dragging / dropping the groups in the order you want. View and move some of your groups to try these features.
8. View groups.
You may find yourself excited and joining more groups than you can follow. Log into Yahoo! Groups. On the left, you'll see "My Groups". Click the "Manage My Groups" to the right of that.
You'll see a list of all groups you belong to. Groups that you moderate will be placed at the top of your list. You can click on any link and go directly to that group. If you're interested in making changes to any of these settings, see Steps 10-12.
9. Mail.
Log into Yahoo! Groups. On the left, you'll see some of your groups and select the "Manage My Groups" to the right of that. It opens up information on your groups, including "Mail Subscription" (far right).
No email – some groups will kick you out if you choose this option
Individual emails – you receive each email independently so you can follow conversations easily
Daily digest – receive up to 25 messages in one e-mail each day; this is good for extremely popular groups
Special notices – you only receive items that are considered highly important
To help users even more, at the bottom, you can change everything on a page by changing the bottom selection only and applying it to all groups on that page.
Don't forget to save your changes!
10. More editing.
You can choose to change your profile or where your emails are going. So, if you're going on vacation, you can send your favorite group(s) to an online account (such as your Yahoo! one) so you can access them while you're away.
If you get too much mail and your email exceeds capacity, your email will bounce. It reports back to Yahoo! that it can't be delivered. You will need to "unbounce" your email to get it flowing again . . . once you clean out your inbox. Using Yahoo! Mail gives you an unlimited amount of space, so this won't happen.
11. Can't find a group?
If you can't find a group that covers your interest(s), make your own. As you explore Yahoo! Groups, you saw many links to start your own group. Before you do, check out the Enrichment Project badge program "Yahoo! Group Creator" for a little insight before you start.
Supplements
SUPP_Yahoo Group Explorer_2in_12up_larajla
Avery 2" round label printable, 12 up
SUPP_Yahoo Group Explorer_Checklist_larajla
Sites to Explore
Get the infographic here > larajla blog post
Get the PDFs of the badge program / supplements here > Full badge PDFs